Back to Products, Services and Advertising
Three Page Spread Profile - Through 12/31
Profile - Manufacturing Success In Georgia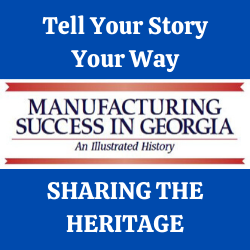 MANUFACTURING SUCCESS IN GEORGIA:
AN ILLUSTRATED HISTORY
IS IMPORTANT TO YOUR BUSINESS
Tell Your Story, Your Way
Your profile is the story of your company. We will have a professional profile writer create your story. With a story, your historical background will add interest and tie into the theme of MANUFACTURING SUCCESS IN GEORGA.
Your contributions are welcome. You also may do some "brainstorming" prior to communicating with the writer. And, remember, you have complete editorial control of your story.
Includes two photos per page and production.
YOUR STORY
Your story, written to your specifications by a professional profile writer.
Your story incorporated along with other outstanding businesses, supporting industries, and institutions in the manufacturing sector.
Your story featured as part of a prestigious state history book.
BENEFITS
Never thrown away, unlike traditional print media.
Your profile will be read and re-read for decades to come.
Books, with your profile, will be in public and school libraries as well as in waiting rooms of many professionals.
Books will be sold through retail bookstores and online at Amazon.com.
Placed into the hands of top executives and other community leaders.
Can be a tribute to a founder.
A legacy for future generations.
Participation dramatically shows your active role in industry leadership.
Helps to promote economic and cultural development.
A "soft marketing" piece that can be used as a gift for employees, customers, investors, and others.
More than 40,000 people will see and read MANUFACTURING SUCCESS IN GEORGIA.
No longer available