GMA Tools and Reading List
At the Georgia Manufacturing Alliance, we strive to provide top quality tours and events. Over the years, we have found a few products that help us serve our members and we though that we would share them here. Please use the links below to place your order... (sorry these products are not manufactured in Georgia, but I would gladly test any competitive products that are made in our state.)
---
After testing and reviewing a wide variety of tour guide systems, we believe that this is the best value on the market today.
EXMAX ATG-100T 195-230MHz Wireless Tour Guide Monitoring Voice Audio Transmission System + Aluminium Alloy Charge Case for Teaching Tour guides Conference Church Trip(2 Transmitters and 30 Receivers)
This package takes 5-15 days to deliver. The images on Amazon are not the best, but the product has served us well for more than a year. Click HERE to order the same tour guide package we use.
---
We chose to use over the head headphones with our system. These work great and they are priced right. Click HERE to order headphones.
SmithOutlet 50 Pack Over the Head Low Cost Headphones in Bulk
---
To keep things clean... we replace these headphone covers after each tour. It only takes a few minutes, but our members seem to appreciate the gesture. Click HERE to order your headphone covers.
Small Stretchable Headphone Covers - Black - Bag of 100 - fits most standard-size headphones and headsets
Back to top
---
With tons of options on camera equipment, the camera package that we recommend is the Canon T7i. After spending weeks reviewing all of the options and features we need on our tours and events, this package was by far the best value. Although we still take a lot of photos with our phones for conveinece, this is what we use when we need quality pictures and video. Click HERE to order the Canon T7i
Canon EOS Rebel T7i DSLR Camera + 64GB SDXC Memory Card + Canon 18-55mm IS STM Lens + Canon 75-300mm III Lens + 64GB SDXC Memory Card + BackPack + Accessory.
We have just added this tool to get some interesting arial shots of the tours we take. This Mavic Air from DJI is the best drone on the market for our needs. Easy to set up and fly. Give it a shot and I think you will get hooked on flying too. Click HERE to learn more about this drone.
DJI Mavic Air Fly More Combo (Arctic White) Drone Combo 4K Wi-Fi Quadcopter with Remote Deluxe Fly Bundle with Hard Case VR Goggles Landing Pad 64GB microSDXC Card and 1 Year Warranty Extension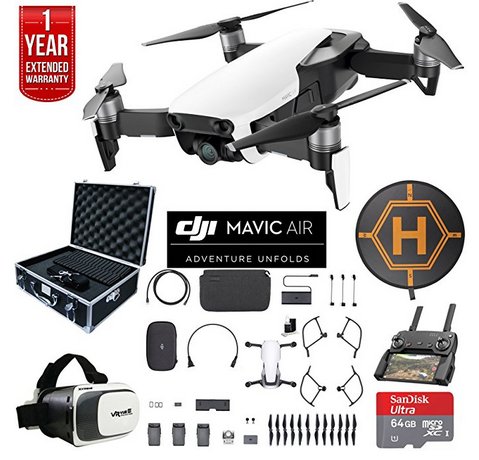 ---
Recommended Reading List
Our members and leaders often ask about the books that we recommend. The following is a short list of the most recent books that our team at GMA has been reading. I would invite you to check them out...