Back to Products, Services and Advertising
Manufacturing Success In Georgia - Book - Single Copy
Book - Manufacturing Success In Georgia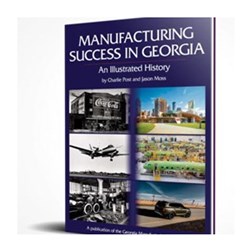 Celebrating Enterprise and Growth in Georgia
MANUFACTURING SUCCESS IN GEORGIA: An Illustrated History is a significant new, illustrated "coffee table" history book commissioned by the Georgia Manufacturing Alliance as a unique view of our state's past and present as it looks toward a bright future. This book will be an illustrated account of the rich history of manufacturing and will be a professionally-produced, large-format, heavily illustrated work authored by Jason Moss, CEO of the Georgia Manufacturing Alliance and Diane Dent-Wilcox.
"As the founder and CEO of the Georgia Manufacturing Alliance, I am in daily contact with manufacturing leaders throughout Georgia," said Jason Moss. "With over 10,000 manufacturing facilities in our state, there is a powerful story behind how we became the Southeast economic hub."
MANUFACTURING SUCCESS IN GEORGIA: An Illustrated History will focus on the characters and events that have shaped manufacturing in Georgia and created both jobs and prosperity for the Peach State. It will tell about making products in Georgia, from the earliest days of utilizing Georgia cotton for textile production, to today's booming carpet industry, to the global impact of leading companies like Coca-Cola and Gulfstream.
Additionally, this colorful, coffee table-type book will include over 100-period photographs, maps, and paintings. It will be a great resource to promote Georgia's dynamic economy and manufacturing industry. The book will be accessible in libraries and bookstores statewide as well as from online sources such as Amazon and will be available to organizations involved in economic development.
"I am very excited to work on this project and to tell the incredible stories of people, plants and processes that make manufacturing great in Georgia," said Jason Moss. "Our state has a fascinating manufacturing history and I am looking forward to bringing these stories to life."
---