Refer A Friend and Everyone WINS!!!
Special Referral Program Oct. 22 through Dec. 22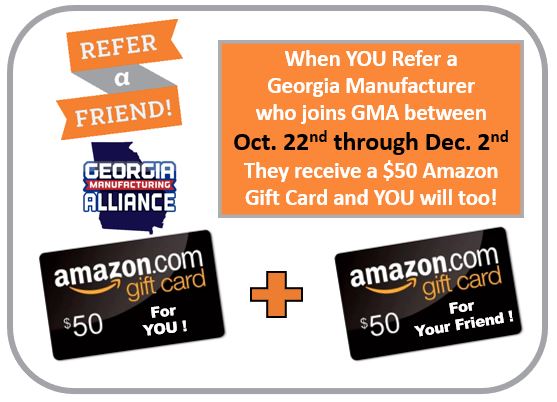 A rising tide lifts ALL ships...
Everyone benefits when new manufacturers join the Georgia Manufacturing Alliance.
Now is your chance to make a difference and be rewarded for your efforts.
Over the past 11 years, our organization has grown primarily by referrals and we need your help to make a big impact on Georgia's manufacturing community before December 22nd.
We could DOUBLE the number of manufacturing members at GMA if each current member referred just one manufacturer that becomes a member during this promotion. Our team has developed an AMAZING program to help encourage you to share the benefits of membership in GMA. For the next 6 weeks, we are going to reward you with a $50 Amazon Gift Card for every manufacturer who joins GMA and lists your name as the person who referred them. As an extra bonus for membership, the new member will also receive a $50 Amazon Gift Card after joining.
The timing is PERFECT!!! All new members will have their company listed in the 2020 Georgia Manufacturing Directory. The directory has a distribution of 2500 and it will be delivered to the top industry leaders in the state.
Contest Details:
Gift cards will be awarded for NEW Manufacturing Members who join GMA between Oct. 22 and midnight Dec. 22. Your name must be entered in the Referred By section when they complete their online membership application.
Feel free to share this page with all of your manufacturing friends so that they can see the details of this program. Click Here or the link below to Join GMA.