KIA Motors America and Blue Bird Corporation leadership to speak at the Georgia Manufacturing Summit
Date posted
September 15, 2015
ATLANTA, GEORGIA (PRWEB) SEPTEMBER 15, 2015
Randy Jackson – Senior Vice-President of KIA Motors America and Phil Horlock President and CEO of Blue Bird Corporation will be the featured speakers during the 2015 Georgia Manufacturing Summit at the Cobb Galleria on November 18th.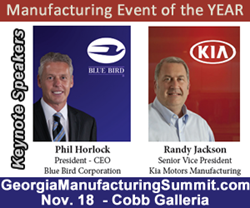 Manufacturing industry leaders from every corner of Georgia will gather on November 18th for the Georgia Manufacturing Summit at the Cobb Galleria to meet with their peers as they learn about issues impacting their businesses. The day will start off with the "People of Manufacturing Awards" breakfast.
In an effort to bring exposure and recognition to Georgia manufacturers and their employees, the Georgia Manufacturing Alliance is honoring the people of manufacturing in Georgia that exhibit excellence on a day-in, day-out basis. In 2015, we're excited to announce the addition of two new awards that will seek to recognize a team of employees that have gone above and beyond to better their organization's manufacturing operations.
The 2015 awards categories are: 
    Front Line Leadership
    Plant Manager
    Team Safety
    Team Operational Excellence