Inaugural Georgia Manufacturing Summit an Overwhelming Success
Date posted
November 23, 2015
ATLANTA, GEORGIA (PRWEB) NOVEMBER 23, 2015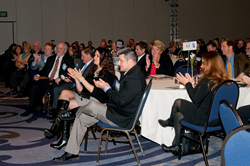 The inaugural Georgia Manufacturing Summit was held on Wednesday, November 18th, with an overflow crowd filling the Cobb Galleria as leaders gathered to network and learn from other industry experts.
Keynote presentations were provided by top executives from KIA and Blue Bird Corporation.
"I believe that the Georgia Manufacturing Summit is exactly what is needed to create local connections and build a strong sense of community in this industry. By supporting each other, Georgia manufacturers are growing their businesses and positioning Georgia as the leader in the re-birth of manufacturing in our county," said Jason Moss, CEO of Georgia Manufacturing Alliance (GMA).