Georgia Manufacturing Alliance Receives Increased Sponsorship from Smith and Howard for 2016
Date posted
February 29, 2016
ATLANTA GEORGIA (PRWEB) FEBRUARY 29, 2016
After the success of 2015, the Georgia Manufacturing Alliance (GMA) and Smith & Howard have decided to grow their relationship in 2016.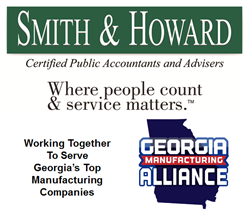 "This is exactly the type of company our organization has been seeking to partner with," said Jason Moss, Founder and CEO of GMA. "Smith & Howard has a stellar reputation within the manufacturing community and serves many well-known brands. Not only have they been recommended by top manufacturing leaders in Georgia, but they were recognized this year as the number one firm in the nation among the elite 50 Best of the Best accounting firms by INSIDE Public Accounting and as a Top Accounting Firm to Work For by Accounting Today. The Atlanta Journal-Constitution has recognized the firm as a Top Atlanta Work Place for the past four consecutive years."
GMA had more than 1,500 people attend 73 events that supported Georgia's manufacturing community in 2015.
"Our manufacturing team has been impressed with the results that GMA has produced for Georgia manufacturers of all sizes and with GMA's plan to continue to expand its reach to all levels within manufacturing organizations," said Debbie R. Torrance, CPA/PFS, Partner and Manufacturing/Distribution group leader at Smith & Howard. "We are committed to deliver additional resources to the members of GMA that will add value, including the monthly manufacturer's Purchasing Managers Index Report (PMI) that we offer our readership each month."