Georgia Manufacturing Alliance Helps Expand Reach of National Manufacturing Day
Date posted
September 30, 2015
ATLANTA, GEORGIA (PRWEB) SEPTEMBER 30, 2015
Four plant tours, offered by Georgia Manufacturing Alliance, have been added to the National Manufacturing Day calendar.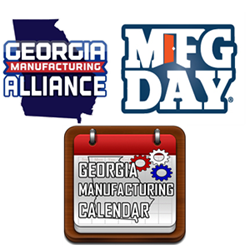 Manufacturing Day, which will occur on October 2nd, is an event promoted nationally by the National Association of Manufacturers to highlight careers in manufacturing. Featuring plant tours and online seminars, a celebration of modern manufacturing follows Manufacturing Day and lasts through the month of October.
The Georgia Manufacturing Alliance (GMA) has chosen to expand the reach of this celebration by adding four plant tours to the Manufacturing Day schedule in October.
"Because we already host between six and eight monthly events," says Jason Moss, CEO of GMA, "it seemed like a good idea to align this month's plant tours with Manufacturing Day's October schedule."