Death of an Industry Icon - Harry Kirk founder of Kirk-Rudy Inc.
Date posted
November 10, 2021
Woodstock, GA – The mailing and printing industry lost an icon of innovation and technology on October 29, 2021. Harry V. Kirk, founder and CEO of Kirk-Rudy, Inc., died at age 93.
Born in Czechoslovakia in 1928, Harry endured the brutal occupation by Germany during World War II and later occupation by the communist Soviet government. After escaping at the age of 20, he eventually made his way to America. After settling in Chicago and connecting with a community of Czech immigrants, he landed a job with the Cheshire Corporation as night maintenance technician. Management quickly noticed his ability to improve their equipment and he was promoted to Head Engineer.
In 1967, when Cheshire was being purchased by Zerox, Harry and a co-worker, Fred Rudy, started Kirk-Rudy, Inc. in a small garage in Libertyville, IL. With Harry's knowledge of mailing equipment and a many industry contacts, their business grew quickly. In 1971 they moved operations to the warmer climate of Kennesaw, GA. Harry then bought Fred Rudy out and became sole owner in 1972. In 2002 Kirk-Rudy was moved to a custom designed, state-of-the-art production facility in Woodstock, GA.
Harry's commitment to designing and building better equipment, all under one roof, has proven to be the driving success of Kirk-Rudy. "Harry made Kirk-Rudy into a strong company that will carry his vision and legacy well into the future. He will be sorely missed, he touched so many lives", says Rick Marshall, President.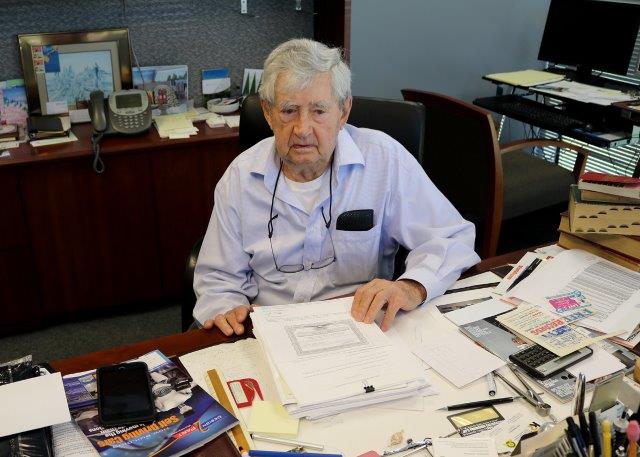 Harry V. Kirk, Founder and CEO of Kirk-Rudy, Inc.
For questions or more information, contact:
Jim Williams
Director of Marketing
Ph. 678-819-2355