2017 October and November Events Calendar for the Georgia Manufacturing Alliance
Date posted
September 29, 2017
ATLANTA, GA (PRWEB) SEPTEMBER 29, 2017
Manufacturing Plant Tours and the Georgia Manufacturing Summit offers manufacturing professionals across the state the opportunity to learn best business practices from industry leaders.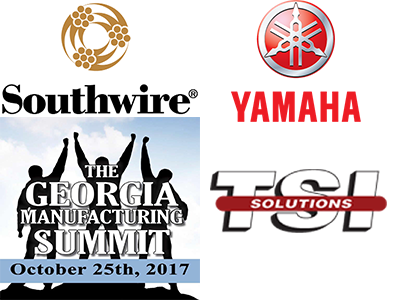 3rd Annual Georgia Manufacturing Summit -- October 25 -- Cobb Galleria: 20 top industry experts will address the "Manufacturing Trends to Track for 2018".
TSI Solutions Plant Tour – October 6 – Stone Mountain: Celebrate National Manufacturing Day by touring TSI Solution's T-slot aluminum extrusion production facility and see an expo of products manufactured by Festo, the world's leading provider of factory automation components and systems.
Southwire Tour - November 1 – Carrollton: As an upgrade to one of Southwire's existing facilities in Carrollton, Ga, the state-of-the-art Thorn Customer Solutions Center showcases Southwire's product portfolio and allows for education and hands-on training for contractors, channel associates and industry training partners.
Yamaha Motor Plant Tour - November 9 – Newnan: Over 500,000 sq. ft. of manufacturing fun is under one roof at Yamaha Motor Manufacturing.
Networking Events – Alpharetta, Gwinnett, NE and NW Georgia: These sessions help GMA service providers and manufacturers connect and expand their referral network. Only on.e professional per business category is allowed which makes them the "go to" person for their industry.