Back to Events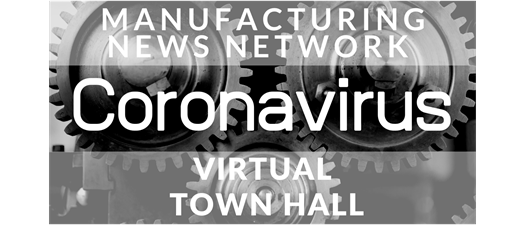 Manufacturing Virtual Town Hall
Monday, March 23, 2020
10:00 AM - 11:00 AM (EDT)
Event Details
Manufacturing Monday
This Town Hall meeting is open to everyone. We will discuss current events and everything manufacturing!
Topics will include:
What approaches are companies taking to protect their employees and business
Proactive steps to communication with supply chain
Impact on local and global supply chain relationships
Flexibility and utilizing technology
What's next and how to plan accordingly
What you will learn:
Best Practices
Share ideas on how to implement new precautionary measures
First-Hand information and the impact of business
Who should attend:
EVERYONE, stay up to date with ever-changing information and events.
Upcoming Events:
SUBSCRIBE AND REGISTER
HR Roundtable - MNN - 3-24-2020
Supply Chain Roundtable - MNN - 3-24-2020
Obviously we will not be able to answer every question that we face on this topic, we are committed to sharing best practices.
For More Information:
Heather Rogers
Office Manager/Events Director
Georgia Manufacturing Alliance
(770)338-0051