Back to Events

Baseball and Supply Chain Management - SunTrust Park
Wednesday, April 18, 2018
Event Details

Baseball & Supply Chain
Join APICS Atlanta, CSCMP Atlanta Roundtable and the Georgia Manufacturing Alliance for an evening of networking, best practices & baseball.
"Digitization of Small & Mid-Sized Businesses"
A Panel Discussion
The current Digital Economy is requiring all businesses to become digital businesses.  Large or small, established or startup, properly leveraging Digital is more than a differentiator, it is foundational to sustained survival.  But where does hype end and reality begin, and where is the sweet spot for organizations on the digital curve?  Metro Atlanta has become a hot spot for digital innovation, and together we're working to implement digitization in a fiscally responsible way.  Join us for an afternoon of discussion and fun, as we explore best practices in moving the needle on the benefits of digitization for your organization, and without busting the business case.  Then we'll enjoy our home town Atlanta Braves take on the Philadelphia Phillies.  Come and join in the dialogue as we do our part to shape Atlanta's digital economy.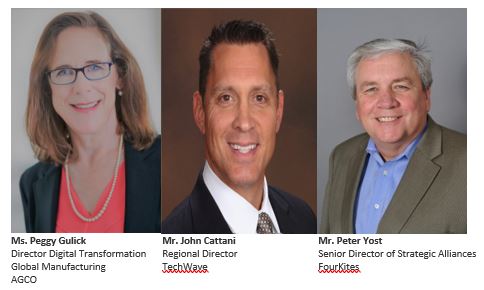 NOTE:  Meet at the Roxy Theater Marquis to pick up your tickets.  The Theater is across from the right field gate.  Plan to arrive no later than 5:30 pm or you will have to pick up your tickets at WILL CALL. 
AGENDA
5:30 pm - Registration & Networking
6:00 pm - Panel discussion
7:00 pm - Conclude and get ready for a Braves win over the Phillies
Braves Suite Location:
Beginning on the Lower Level, take the escalator near Guest Services/Clubhouse Store/Section 111 to the Terrace Level. Once on the Terrace Level, wrap around to your right and enter the glass doors of the Conference Room behind Section 213. 
*Registration includes 1 game ticket & a $15 concession voucher, but does NOT include parking.