2019 Georgia Manufacturing Summit Speakers (Archive)
2019 Summit Keynote Speakers
Werhner Washington
Plant Manager, Procter & Gamble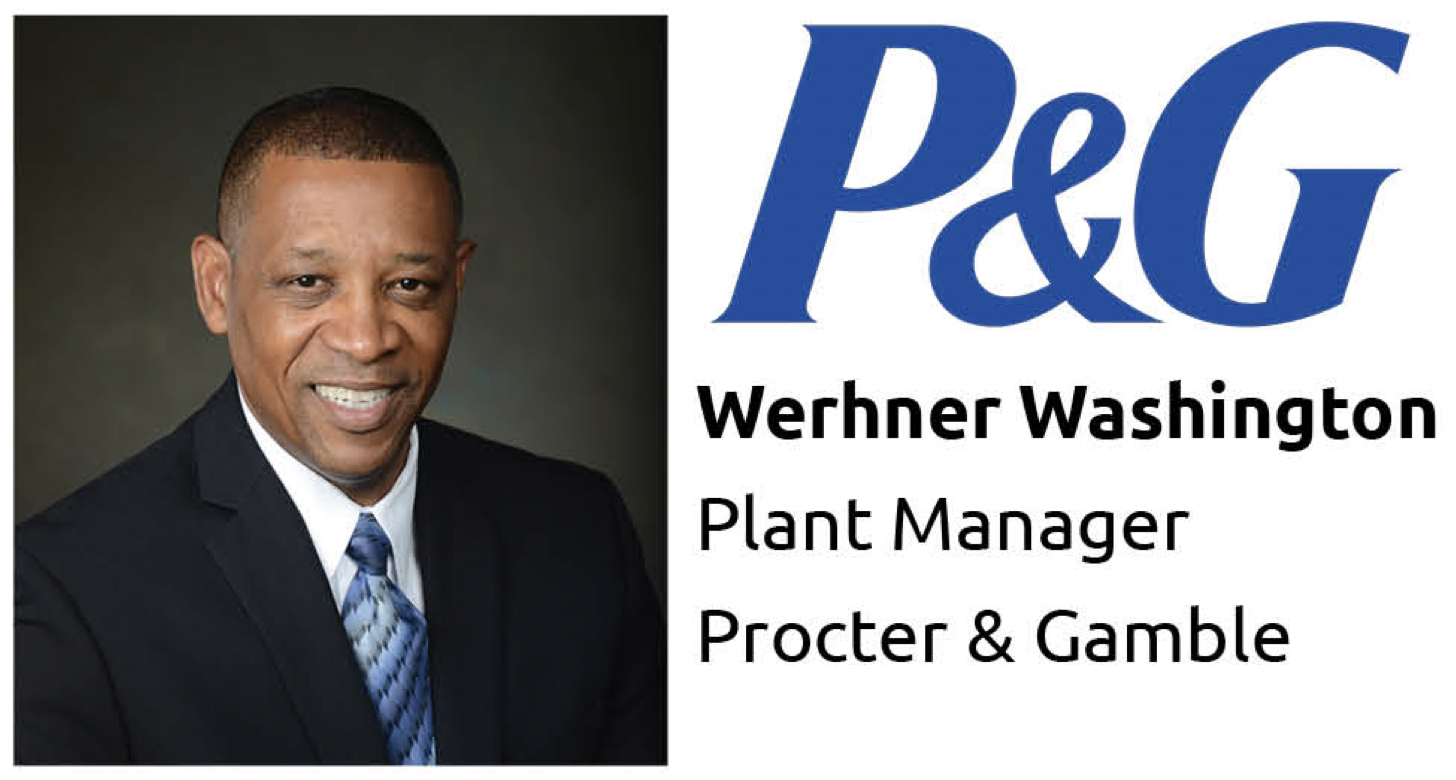 Werhner holds a B.S. in Chemical Engineering and has held a variety of assignments with increasing responsibility at Procter & Gamble. He started his career at the P&G Albany Plant as a Process Engineer and advanced through a variety of manufacturing assignments including Operations, Initiative Delivery, and Logistics. As his career progressed, he worked in several locations including Pennsylvania, Maryland and the P&G Global Headquarters in Cincinnati, Ohio.
While in manufacturing, he was able to build extensive skills in Operations Management, Total Quality Assurance and Change Management. He also held a number of assignments in Corporate Human Resources where he developed expertise in Organization Design and Talent Management.
Werhner was the P&G Albany Plant Manager from May 2014 to October 2019 and led the plant to be one of the top-performing in P&G. The P&G Albany Plant won the 2019 Georgia Manufacturer of the Year Award for their work in Economic Development, Community Service, and Workforce Development. Werhner will retire from P&G on October 1, 2019 and plans to do Manufacturing Capability and Organizational Performance Consulting in the future.
---
Stuart Countess
Chief Operating Officer, Kia Motors Manufacturing Georgia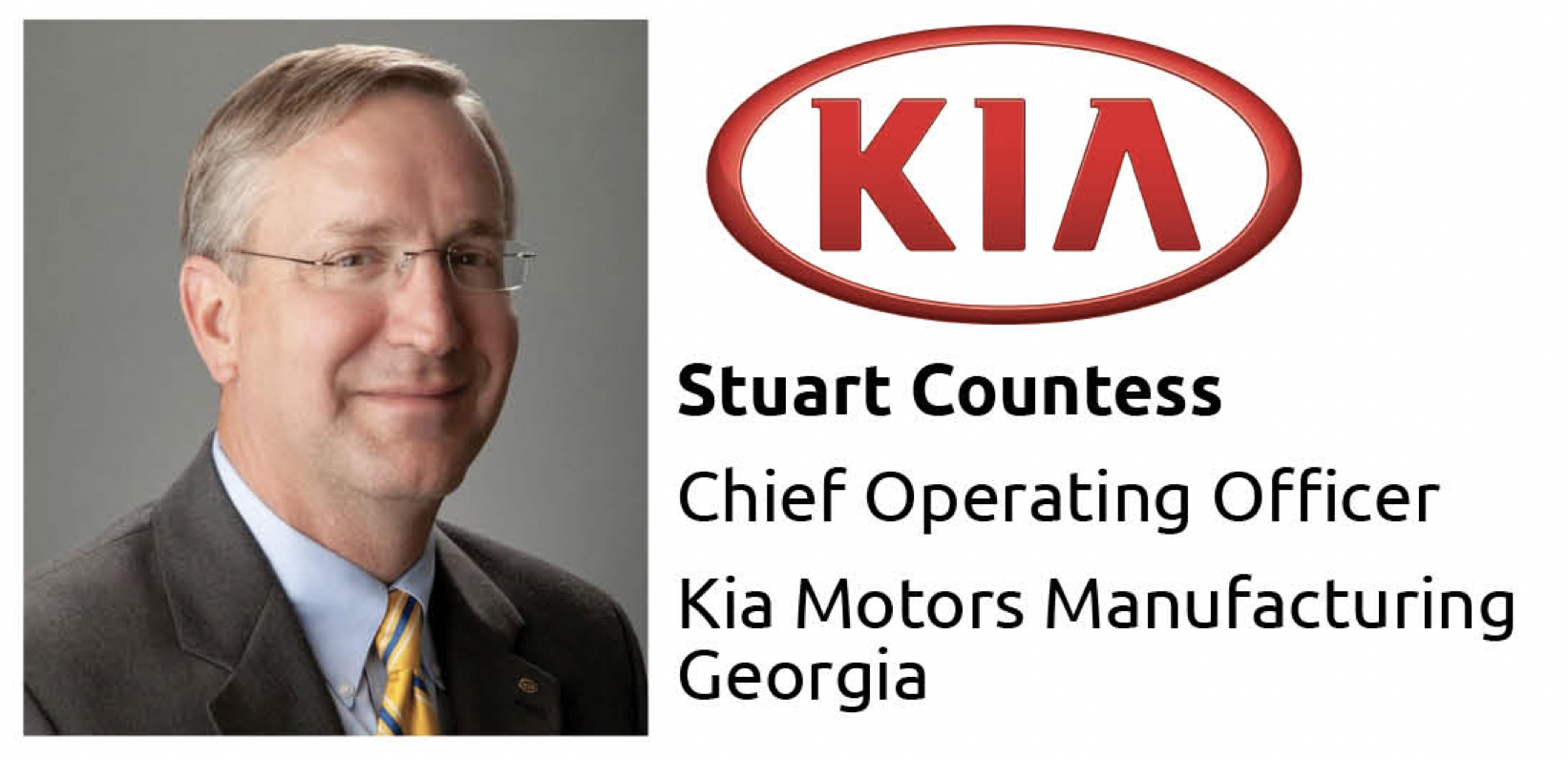 Stuart Countess is the Chief Operations Officer for Kia Motors Manufacturing Georgia, Inc. (KMMG), responsible for leading the Human Resources and Administration Division including Team Relations, Public Relations, Safety and Security, Environmental, Corporate Services, Legal and Sales.

He previously served as the Vice President of Quality overseeing overall vehicle quality, process quality, customer satisfaction, warranty and ISO/TS certifications for Business Management Systems. Originally, Countess joined KMMG in 2008 as the Senior Manager for the General Assembly Shop.
Morning Sessions - 10:30 - Noon

---

Afternoon Sessions 2:30 - 4:00

---

Manufacturing A Better Bottom Line                                      (back to top of page)

How to Power Profitability at Every Level of Your Business – An interactive conversation

This panel will be comprised of Georgia business leaders who understand the challenges of leading a successful organization. They will offer tips and ideas and will take questions from the audience. Focused on CEOs, CFOs, Controllers, and HR executives, this panel will address how to power profitability at every level of your business.

Businesses have risk exposure in internal and external data – including data within manufacturing processes. A manufacturing business can suffer debilitating financial losses because of one overlooked or careless practice. Smith & Howard's enterprise risk leader will cover five key areas manufacturers should address to take their business from reactive to proactive as one step toward protecting their bottom line.

Who should attend: CEOs, CFOs, Controllers, HR executives

Topics covered:

-Insights and Tools to Make Your Business More Profitable
-Technology Threats and Opportunities
-Industry 4.0 Data to be collected and how to use it

Creating a Cyber Aware Culture

Richard Warner, CEO at Aware Force -

Strong entrepreneurship professional: led three startups, one in broadcasting and two in technology. Skilled in cybersecurity; digital strategy, content creation and sales; public speaking and emceeing; and radio and television. Volunteer mentor and board member. Expert in radio and television history. ABJ focused in Broadcast News from the University of Georgia.

 

Five Key Areas Manufacturers Should Address to take their Business From Reactive to Proactive

Martha Raber, - Enterprise Risk Security at Smith & Howard

Martha Raber leads the Enterprise Risk Security service offerings at Smith & Howard, having joined them after serving as Senior Security Consultant and Senior Security Program Manager for two large corporations.

She specializes in educating, directing and helping organizations navigate applicable standards, laws and regulations to meet compliance and manage risk on an ongoing basis.

Martha earned both a Bachelor of Science and a Master of Science in Information Technology from South University in Savannah. She is a HITRUST Certified CSF Practitioner, ISO/IEC 27001: 2013 Lead Auditor (TPECS), CSA STAR Auditor, CISSP, CompTIA Security+, Certified Information Privacy Manager(CIPM), Certification in Business Management and holds an Office 365 accreditation.

 




Jeff Brown - Senior Business Advisor | Enterprise Risk Solutions at
Smith & Howard

 

Jeff Brown joined Smith & Howard as a Senior Business Advisor in 2019. Prior to joining the firm, Jeff worked with companies in the security and risk management space. He specializes in directing and guiding organizations to achieve financial success. Originally from Western Canada, Jeff has spent more than 20 years selling technology software and services solutions in the United States. This includes helping organizations operating in the U.S. understand and address their enterprise security risks and vulnerabilities.

 

.

---

Trends to Track in Your Supply Chain                                       (back to top of page)

This panel will be comprised of Georgia business leaders who understand the challenges of maintaining a successful supply chain.

"Trends to Track in Supply Chain" will offer helpful insight on critical business issues that manufacturers face. The panel will be tackling four key themes: "the Four T's": Technology, Transportation, Talent & Trade/Tariffs.

"We've approached this panel discussion by tackling topics that I hear top-of-mind from speaking with hundreds of manufacturing professionals and leaders," said Scott Luton, Executive Vice President of APICS Atlanta and moderator for the session. "With a few exceptions, what has made manufacturers successful over the last 20 years won't necessarily make them successful over the next 20 years."

Who should attend: Purchasing / Engineering/ Operations / Logistics

Topics covered:

Technology, Transportation, Talent & Trade/Tariffs.

This session is sponsored by :  Supply Chain Now Radio.

Scott Luton will moderate this session.

Scott W. Luton
Founder, Supply Chain Now Radio.

He has worked extensively in the end-to-end Supply Chain industry for more than 15 years, appearing in publications such as The Wall Street Journal, Dice and Quality Progress Magazine. Scott currently serves as a board member with APICS Atlanta and was recently named a 2019 Pro to Know in Supply Chain by Supply & Demand Executive. He founded the 2019 Atlanta Supply Chain Awards and also served on the 2018 Georgia Logistics Summit Executive Committee. He is a certified Lean Six Sigma Green Belt and holds the APICS Certified Supply Chain Professional (CSCP) credential. A Veteran of the United States Air Force, Scott volunteers on the Business Pillar for VETLANTA and serves on the advisory board for the Georgia Manufacturing Alliance. He also serves as an advisor with TalentStream, a leading recruiting & staffing firm based in the Southeast. Connect with Scott Luton on LinkedIn https://www.linkedin.com/in/scottwindonluton/ and follow him on Twitter at @ScottWLuton.




Tandreia Bellamy, VP Engineering, Global Freight Forwarding UPS

Tandreia is responsible for operation strategy, forecasting and technology tool development to optimize sustainable efficiency while driving world class service. Tandreia held a similar position for UPS's Global Logistics business unit. In this position, she directed all industrial engineering activities related to the company's key product offerings: Distribution, Service Parts Logistics and Mail Innovations. 

Prior to her Supply Chain roles she was the small package West Region Vice President of Engineering, responsible for the Industrial Engineering (IE), Operations Excellence (Quality), Asset Management and Technology Support Groups (TSG) for the 25 states in the western half of the United States. Tandreia was directed all aspect of planning, asset utilization, service quality, support and implementation of technology, and process improvements. 

Tandreia began her UPS career in 1986 as a part-time package handler while completing her undergraduate degree. She held various engineering and operations positions in Central Florida (Orlando) before being transferred to the UPS corporate office in Atlanta. While assigned to Corporate, Tandreia held positions in the Corporate Marketing and Corporate Industrial Engineering departments. 

Tandreia holds a BS from Stanford University and an MS from the University of Central Florida, both in Industrial Engineering. She served on the Board of Trustees for ChildServ (a multidisciplinary child and family services network) and was a member of the Texas A&M Engineering Advisory Board. She is currently on the Executive Advisory Boards for both Virginia Tech Industrial Engineering Department and the Associate for Supply Chain Management (formerly APICS). Tandreia is the proud mother of two wonderful children, Ruby (19) and Anthony (17). 

 




Guillermo Juvera, Vice President, Supply Chain, Mitsubishi Electric Trane HVAC US

Guillermo Juvera is Vice President of Supply Chain Management at Mitsubishi Electric HVAC Trane US LLC. He is responsible for end to end supply chain, implementing strategies that assure cost efficiencies and fulfill customer expectations. He works closely with distributors, the residential and commercial business units, factories and vendors to ensure proper inventory levels and supply chain practices are maintained.

Guillermo joined the Cooling & Heating Division in August 2015. Previously, he was employed in several management roles at Mitsubishi Electric Corporation, including Production Control Manager at the PIMS Factory in Mexico. He was also Business Planning Manager at Mitsubishi Digital Electronics America (MDEA) in Irvine, California.

Prior to joining the company, he served as Executive Director of Supply Chain, Global Operations at Dell Inc., Austin, Texas, where he lead the deployment of "build to stock" planning strategy.

He studied industrial and systems engineering at Tecnológico de Monterrey, Querétaro, Mexico, and earned a master's degree in business administration from the University of California in Irvine, California.

 




Rochelle Routman, Chief Sustainability Officer, HMTX Industries

Rochelle's charge is to move the organization into a more dynamic, constructive reality through sustainability, product, customer, and employee-centric business strategies. Rochelle leads the global Product Authority Team, whose mission includes innovative and quality products, unparalleled customer engagement, and outstanding sustainability leadership.  Rochelle is responsible for guiding a comprehensive sustainability strategy at all operations, including those of Asian factory business partners. Rochelle is guided by the importance of truth, transparency, and the continued support of those who are taking action to address pressing environmental and social justice issues. In 2014, Rochelle received the Women in Sustainability Leadership Award (WSLA) and is now the leader of the WSLA Alumnae Group. 

 




Aaron Meredith, Director of Innovation, Point A Center for Supply Chain Innovation

Aaron works with Point A member companies to deliver highly valuable, innovative solutions to complex cross-industry problems in the supply chain.

Aaron joined Point A in January 2019 with over 17 years of experience at Georgia-Pacific in areas of manufacturing, business operations, operations excellence, information technology and innovation.  Aaron's prior experience includes stints with both the Mead Corporation and Westvaco.  He has lived and worked in 3 different countries, including 2 years as a Peace Corps volunteer. 

Aaron hold bachelor's degrees in Chemical Engineering and Pulp & Paper Science and Technology from North Carolina State University, and a master's in Business Administration from Kennesaw State University.

When not working, Aaron enjoys international travel with his family and all things sports. Go Braves!

 

Developing Georgia's Winning Workforce                              (back to top of page)

This panel will be comprised of Georgia business leaders who understand the challenges of maintaining a successful workforce.

Who should attend: CEO / Human Resources

Topics covered:

- What programs are available and what is working
- Generational Gaps
- Leadership Training Game Plans

This session is sponsored by : Southwire

This panel discussion will be moderated by Jamey Jackson

Jamey Jackson  - Workforce Development Tips
 Executive Vice President, Malone Workforce Solutions

 Mr. Jackson began his career with Kelly Automotive Services Group where he placed manufacturing candidates in professions including Engineering, Purchasing & Procurement, Operations, and Information Systems for Toyota Motor Engineering North America and Toyota Motor Manufacturing Kentucky. Since joining Malone Associates in 2010, Jamey provides his clients with staffing solutions around the globe as he collaborates with talent acquisition partners on six different continents. As a problem-solver and creative thinker, he enjoys crafting acquisition strategies that help companies see an improvement in their job performance, job satisfaction and bottom line. Using his strong experience with the automotive industry and its staffing needs, he helps his partners discover solutions for some of their greatest challenges in talent acquisition. By providing his clients with strong and competitive talented leaders, he helps them to stay ahead of the competition and maximize their return on investment.

 

Chris Barrett, Director of Human Resources & Safety Manufacturing Manager, Nisshinbo Automotive Manufacturing 

Chris started his career with Nisshinbo when they opened their Covington facility in 1999. He oversees their manufacturing processes and daily control procedures to produce integrally molded brake disc pads at their 300,000 sq. ft. plant

 




Latesa Bailey, Senior Manager for Human Resources

Kia Motors Manufacturing Georgia (KMMG)


Kia has partnered with THINC College & Career Academy to implement the Expeditions Internship Program which rotates students through 4 departments – production, paint maintenance, mechanical, and assembly -- to get a true understanding of the manufacturing environment. The selected departments present challenging objectives for the students to gain valuable experience while giving us (KMMG) the ability to realize the potential of our future workforce

 




Steve G. Daniel, Ed.D,  Executive Director, Economic Development Programs Georgia Quick Start

Daniel currently serves as Executive Director, Economic Development Programs with Georgia Quick Start. In this role, he leads efforts in maximizing the connection with the Technical College System of Georgia and all the new statewide workforce development initiatives. As part of this assignment, he leads initiatives focused on enhancing connections and partnerships with workforce development, chamber, and employer associations throughout the State. Working with the Deputy Commissioner, he is also helping to establish Start's strategic direction for the future.

Prior to this current role, Steve served as President of West Georgia Technical College [WGTC] from June of 2014 through November 2017, providing leadership to the faculty and staff in creating a benchmark institution within the Technical College System of Georgia (TCSG). This was affirmed by the State Board in December 2016 when WGTC was named a "College of the Year" finalist among the 22 institutions across the State. Among benchmark recognitions, the College implemented the nation's first German Apprenticeship Training Program involving high school students in conjunction with the Central Educational Center (CEC) in Newnan. In Fall of 2017, WGTC was named a "Leader College" as part of the Achieve the Dream (ATD) network of two-year colleges across the Country (1 of 8 recognized nationally in 2017). Such recognition is awarded to institutions that have shown three years of steady improvement in student success outcomes like graduation and remedial education completion.

His career at TCSG spans fifteen years with a prior, notable appointment as Provost at Southern Crescent Technical College. Earlier in his career with TCSG, Daniel served as a Director at Georgia Quick Start with responsibility for the Kia Project and the Kia Georgia Training Center in West Point, Georgia. In that role, Daniel was responsible for the operation of the 70,000 sq. ft. training center, along with supporting the workforce assessment and training projects for the entire Kia Motors Manufacturing Georgia project. He began his career at TCSG as Vice President of Economic Development Programs, at Flint River Technical College in Thomaston, Georgia.

In addition, Steve has twenty years of private industry experience, where he held a number of executive management and leadership roles with Boeing, Lucas Aerospace, TRW, and Talla-Com Industries. He has extensive experience in the area of labor and employee relations, having worked in both union and non-union environments. Steve earned his bachelor's (BBA) degree from The University of Georgia, and a master's degree in Human Resource Management (MSHRM) from Troy University. In November 2017, he completed work to earn a doctorate of education (Ed. D.) degree at Valdosta State University.

 

Cara Welch Herzog

Director Diversity and Inclusivity, Workforce Development at Southwire Company

Safety in Georgia's Manufacturing Community                    (back to top of page)

What are the secrets to a world-class safety culture?  The answer is not the size of the organization.  During this session, you will gain insight into developing a world-class safety culture for manufacturers of ALL sizes and industries.  You will hear from an attorney, an EH&S Professional for a local manufacturer, a third-party senior safety specialist, as well as an Area Director for OSHA.  Each of these individuals will share their key takeaways on how to create buy-in at all levels of your organization, how to manage the inevitable OSHA inspection and what you need to know about continuous improvement.

Who should attend: COOs, Operations and Plant Managers, HR Executives, and anyone for whom safety is a top priority.

Topics covered:

Keys to a safety culture
OSHA involvement in your organization
Safety trends for 2020 and beyond




This session is sponsored by : Bermac

This panel discussion will be moderated by Kate Badey

Kate Badey  - Successful Safety Culture Tips
 Vice President, Client Relations, Bermac Safety 

Kate's top priority every day is to ensure our clients are being provided with the best service in the industry. As Vice President she provides support to internal clients, to guarantee that client expectations are exceeded. Kate maintains client safety data and works with our risk managers to interpret this data into results-oriented solutions.

Kate provides periodic inspections of client worksites to increase her understanding of each client's operations. Kate has experience with safety inspections, safety incentive programs, and project-specific paperwork and utilizes her broad base of knowledge and experience to elevate each customer's experience.

Kate holds a Bachelor of Arts Degree from Villanova University.

 




J. Larry Stine, Principal, Wimberly Lawson Steckel Schneider & Stine P.C.

Larry Stine, a Senior Principal in the Firm and an AV rated attorney, enjoys a diverse practice in which he covers a broad range of labor and employment matters. Larry is the former Region IV Counsel for OSHA in the Office of the Solicitor for the U.S. Department of Labor. He is nationally known for his expertise in Occupational Safety and Health (OSHA), wage and hour laws (including FLSA, DBRA, SCA, and state laws) and the Migrant and Seasonal Agricultural Worker Protection Act (MSPA.) He is co-author of Wage and Hour Law: Compliance and Practice (West Publishing 1995 to date) and Occupational Safety and Health Law: Practice & Compliance (West Publishing 2008 to date).

Providing clients with the information and guidance they need to avoid controversies is Larry's first line of defense. This role starts with regulatory impact analysis and keeping clients abreast of developments. He also focuses on litigation prevention through counseling, compliance audits and training, and through assisting employers with developing workplace policies and procedures to comport with all State and Federal laws and regulations including those directed at government contractors by the Office of Federal Contract Compliance Programs (OFCCP.) Larry also provides executive leadership and management training, and helps clients design effective systems for personnel management and review.

Larry's litigation experience includes defending employers against individual, class and collective actions in Federal and State court, before Administrative tribunals, as well as in arbitration and mediation. In OSHA matters, Larry focuses on insuring that employers do not accept citation items and penalties that are not proper. These skills were on display in his negotiated settlement of the largest OSHA case in history which included approximately 5000 citations. 

In addition to advising employers in industries too numerous to name here, Larry advises national trade associations in the lumber, furniture, apparel, health care and food processing industries, and state trade associations in the poultry, trucking, nursing home and textile industries.

Larry graduated cum laude from both the University of Georgia and its law school where he was Senior Editor of the Georgia Law Review. He is admitted to practice in Georgia and in U.S. District Courts in Arkansas, Florida, Colorado, Texas and Tennessee, the U.S. Supreme Court, and the 4th, 5th, 6th, 10th, and 11th Circuit Court of Appeals. He is a regular speaker on OSHA and wage & hour issues and former Editor of several trade publications including: Safety & Health Newsletter for Associated Builders & Contractors of Georgia; OSHA Alert for American Furniture Manufacturers Association; OSHA Alert for Georgia Poultry Association; and, Employment and Labor Law Section Newsletter -- Georgia Bar Association.

 




Shannon Dennis, Senior Safety Specialist, Bermac


Shannon is a Senior Safety Specialist for Bermac Safety. Shannon has over 20 years of experience in the safety field working with both manufacturing and construction clients

Shannon is on OSHA outreach trainer for Construction, General Industry and an MSHA approved trainer for Surface Mining. She holds a Safety Trained Supervisor for Construction (STSC) designation from the Board of Certified Safety Professionals and has completed the General Industry Certificate Program from the University of Alabama.

Shannon completed her Bachelors degree in Operations Management from the University of Alabama Birmingham.

 




Bob Voltz,  Environmental, Health and Safety (EHS) Manager, Bettcher Industries 


Bob joined Bettcher Industries earlier this year as the Corporate EHS Manager, responsible for managing all aspects of the corporate environmental, health and safety functions to ensure a safe work environment for all global employees and compliance with all applicable safety and environmental regulations for Bettcher, Exsurco, and Cantrell/Gainco/Tarheel Group. Bettcher Industries has manufacturing facilities in Ohio and Georgia; with sales and service operations in the U.S., Europe, Brazil, and China.

Bob has held Environmental Health and Safety Manager, Manufacturing, Maintenance, Facilities Engineering and Project Management roles during his career. Prior to joining Bettcher, Bob was the EHS Manager at NPA Coatings Inc. in Cleveland, Ohio. He previously served as the Senior Safety Manager for seventeen years at Kyklos Bearing International (formerly Delphi Corporation and General Motors Corporation) in Sandusky, Ohio. He also held the roles of General Manufacturing Supervisor and Plant Engineering Supervisor during the prior ten years at that site.

Bob has a Bachelor of Mechanical Engineering degree from what is now Kettering University and holds a Master's in Business Administration from Baldwin Wallace University. Bob also has an OSHA Authorized General Industry Outreach Training Program Certification through the University of Cincinnati / Great Lakes Regional OTI Center.

 




Jeffery Stawowy, Area Director for OSHA Atlanta West Area Office

Jeffery is the Area Director of the Atlanta West Area OSHA office. Prior to August 18, 2019, he was an Assistant Area Director in the Atlanta West Area OSHA office since 2016. Before that, he was an Assistant Area Director in Mobile, Alabama Area OSHA office since 2011. He has been with OSHA since 2005. He supervises and oversees the operating efficiency of a multi-disciplinary group of compliance officers including Industrial Hygienists, Safety and Occupational Health Specialists and Safety Engineers.

He retired as a safety Technician from the Air Force Reserves as an E-7 in 2011 with 23 total years of service, which is where he gained a great deal of supervisory, safety and health experience, and education. Jeffery has extensive construction experience that he gained while in the Navy Construction Battalions.

Jeffery has also been an adjunct safety and health instructor for the Mississippi Gulf Coast Community College, and an Environmental Manager for the Mississippi Air National Guard.

 

Afternoon Educational Sessions - 2:30 - 4:00

---

International Issues for Manufacturing:                                  (back to top of page)
Building Domestic Growth and a Competitive Edge

This panel will be comprised of Georgia business leaders who understand the challenges of international trade.

Who should attend: Purchasing / Export/ Logistics

Topics covered:

- Increase sales by leveraging the demand for U.S. products overseas.
- Understand the key dynamics that will guide a successful export program.
- Learn from success stories you can build from.

Join our panel discussion regarding the opportunities available for all size manufacturing companies ready to take their organization to the next level.

This session is sponsored by :

This panel discussion will be moderated by Albert Sorto

Albert Sorto, Co-Founder of International Business Exchange (IBE)


Albert is the Co-Founder of International Business Exchange (IBE), a leading international business development firm that specializes in helping small and medium-sized enterprises (SMEs) create sustainable growth through successful expansion into international markets. Currently, Albert works alongside a network of government consulates, a wide range of high-profile clients, and leading corporations into markets in Latin American countries. 

As a transformational business executive and advisor, Albert has an impressive history of surpassing business goals and positioning organizations for success. Over his 20+ year career, Albert has created a consistent record of creating innovative, development strategies for startup organizations and has demonstrated his dedication to operational and marketing excellence. As a bilingual/bicultural professional, Albert provides access to Latino/Hispanic markets across the US and Latin America.

Albert demonstrates the ability to identify and actualize valuable ideas, employing new strategies that maximize operations, organizational abilities, and exponential revenue growth. His core strengths include establishing and growing strategic partnerships in new markets, business development and fundraising, processes improvement, sales and marketing strategy, and network and community engagement.

Albert is the former Vice President and COO of the Georgia Hispanic Chamber of Commerce and also served as Vice President of Business Development with The National Minority Trucking Association (NMTA) where he spent over five years leading the organization in the transportation and logistics Industry. Prior to that, Albert served as National Director of Sales in the specialty retail industry where he created and managed a successful retail Cart and Kiosks program for a Georgia based manufacturer. He also brings experience from the retail perspective from his position as a Divisional Director of a well-known cosmetics company that operates over 400 retail locations in the U.S. and Canada.

Active professionally, Albert serves on the Executive Advisory Board at APICS Atlanta and the Freight Advisory Task Force at the Atlanta Regional Commission.

Albert credits his entrepreneurial spirit to his parents, both successful business owners. Albert was born in El Salvador and grew up in Houston, Texas and currently resides in Lawrenceville, Georgia with his wife and son.




Consul General, Javier Díaz de León, Consulate General of Mexico

Consul General, Javier Díaz de León, holds a Bachelors degree in International Relations from the Universidad Iberoamericana and a Masters of Arts in International Conflict Analysis by the University of Kent, in England.

Diaz is a member of the Mexican Foreign Service since 1991 and holds the rank of Ambassador since April 28th, 2017. During his diplomatic career he has held various positions: Deputy Consul General in San Diego; Deputy Consul General in New York, Head of the Office for Migration and Hispanic Affairs at the Embassy of Mexico in the United States, and Executive Director of the Institute for Mexicans Abroad of the Ministry of Foreign Affairs in Mexico City.

From June 2013 to May 2016 he served as Consul General of Mexico in Raleigh, North Carolina. In May 2016, he was appointed as Consul General of Mexico in Atlanta, Georgia, serving in this position since June 18th, 2016.

The Consulate General of Mexico in Atlanta oversees the states of Georgia, Alabama and most of Tennessee. 

Nick Nunez,  Vice President of Manufacturing, Millennium Mat Company

Nick Nunez has enjoyed an amazing career with Millennium Mat, and has been at the heart of all the major initiatives.   He has held numerous positions in his 15-year tenure; from Project Manager, Press Manager, Plant Manager and Director of Manufacturing and now Vice President of Manufacturing.

Prior to working at Millennium Mat, Nick worked at Photo Circuits for 15 years, moving from New York to Peachtree City.  Nick attended the Pontificia Universidad Catolica de Chile and SUNY College at Old Westbury where he graduated with a Management Information Systems degree.

From the early days of the CEO program, to the introduction of the Control Room, Mpower and the use of data and screens, to provide real-time information to partners plant wide, Nick has embraced each and every one of his challenges. One of his greatest achievements was the success in moving the plant from the 3255 Building.   Forming the Millennium Movers, creating a "can do" environment and working endless hours to achieve a seamless change of location, which is now Millenium Mat's new home and something the entire company is proud of. His experience and determination to drive productivity and success for Millennium have helped the company cut cost and drive up production to new heights.




Randall Berman, Chief Operating Officer, Continental Food and Beverage, Inc.,

Randall Berman currently serves as the COO for Continental Food and Beverage, Inc., exclusive bottler of brand Inca kola for The Coca Cola Company. A graduate of New Jersey Institute of Technology, Berman began his career at Nedco Conveyor Company. During his tenure at Nedco, Berman held positions of increasing responsibility culminating as Vice President of Operations. In 1990 he began his career in the beverage industry in the field of multi-cultural sales and marketing. As an executive working with Inca Kola, Berman was responsible for building new marketing strategies and opening new markets in the United States and Asia. Berman traveled to Japan and China opening the export business for Inca Kola that still exists today. Most recently, Berman served as National Director for Hispanic Brands for The Coca Cola Company, where he was responsible for the creation of a national sales force for their Hispanic Brands Portfolio. While at Coca Cola he wrote the business plan for Coca Cola from Mexico, currently a 100 million dollar brand.

Berman stands on a solid reputation of commitment to serving the Hispanic community for the last 30 years. In 2009 he was the recipient of the Latino Trend Setter Award and named Executive of the Year by the Hispanic Heritage State Parade of NJ. In 2007 he was awarded Businessman of the Year at the Premios Latinos Awards in New York City. He was a member of the Hispanic Scholarship Foundation selection committee. He was recognized by the Dominican Consulate for his participation in the clean up of the worst Lead contamination site in the world that existed in Haina, Dominican Republic. Numerous local and national Hispanic organizations have recognized Mr. Berman for his leadership, commitment and continued support to the community. He currently serves on the Board of Directors for Save Latin America Foundation and he is the Chairman of the Corporate advisory Board for the Morris County Hispanic American Chamber of Commerce.

 




Remco Bos, CEO at Orpheus Brewing

-.Remco has a proven track record specializing in international business with a strong focus on manufacturing, country-specific marketing, distribution strategies, and building brands. Remco was born in the Netherlands and has been an entrepreneur and investor for the last 21 years based in Atlanta Georgia USA.


Currently, Remco is serving as CEO of Orpheus Brewing based in Atlanta, one of Georgia's fastest-growing craft breweries with distribution in Georgia, Alabama, Tennessee, Florida, Thailand, Hong Kong, and the Netherlands. The focus for Remco is to help Orpheus Brewing grow to the next level, expanding sales and optimizing the brewing operations. For more information please visit www.orpheusbrewing.com


Remco and his wife Genevieve live in Atlanta with their dog Applesauce. The Bos's are very much involved in the startup and business community in Atlanta through various investments, they love to coach and help entrepreneurs reach their objectives. 

---

Sales and Marketing Secrets for Manufacturers                  (back to top of page)

This panel will be comprised of Georgia business leaders who understand the challenges of maintaining a successful sales and marketing program. The all-star panel includes leaders that will be sharing their best practices on how they are tackling key challenges from the shift in how people buy, lead generation and the digital transformation in sales and marketing. This session will be recorded for IndustrialSage.

Who should attend: Sales Representatives / Sales Managers / Marketing

Topics covered:

- Sales Strategies
- Team Accountability (that works for everyone)
- Marketing Game Plans
- Social Media Marketing For Manufacturing

Sponsored by:

Danny Gonzales
Podcast Host, IndustrialSage

An Atlanta native, Danny discovered his passion for video production while volunteering as a missionary in Mexico after high school. Later, his extensive career experience in the world of digital video creation and marketing with companies throughout Georgia led him to found Optimum Productions, a full-service video marketing company in March of 2007.

Danny's personal mission in life is to not only spur creativity and drive results, but also to be actively involved and to consistently present positive and meaningful messages for the betterment of our local community, and the world at large.

Danny has over fifteen years of experience in marketing strategy and video production working nationally and internationally. Maintaining a detailed marketing strategy, meaningful business insights, and creative vision gives Danny the unique ability to routinely exercise his left and right brain equally on a daily basis for his clients. His unique talents, approach, and accomplishments are unmatched as he continually garners award-winning results including nine Telly Awards for client productions.

He is driven by results, ROI, and ultimately solving clients' challenges with innovative video solutions.

Danny resides in Cumming, GA with his wife Julie, and they have been blessed with four beautiful children! Danny also enjoys spending time with his family, playing golf, cooking on the Big Green Egg, flying his drone, watching movies, and racking up hours in the air with his private pilot's license.

Shonodeep Modak, Chief Marketing Officer, North America, Schneider Electric

It's tough to be daring in 100-plus-year-old industrial B2B and B2C businesses, but by fusing smart analytics with demand creation strategy, Shonodeep has driven breakthrough results that have enabled these companies to remain relevant and grow market position.

From developing and marketing the world's first fuel economy improving motor oil brand at ExxonMobil (2000-2008) to doubling gas compression business share at GE (2008-2018), Shonodeep is an instigator of growth. He brings nearly 20 years of commercial experience across energy, oil & gas, retail, aftermarket services and electrical distribution. Creative and data-driven, he has architected and led nimble, global teams that have propelled portfolio expansion and driven demand creation.

In April 2019 Shonodeep joined Schneider Electric as Chief Marketing Officer for North America Operations.  The region consists of Canada, US, and Mexico comprising 28% of overall group revenues. His organization is responsible for animating the region's imperatives into impactful marketing strategies and activities that contribute towards the business goals. The team supports Partner & Retail, Industry, Energy, ITD, Buildings and Services (transversal) lines of business to strengthen brand awareness, build stronger digital customer experience, accelerate sales pipeline growth and conversion to orders.

Shonodeep resides in Atlanta, Georgia with his wife Gayatree, son, Kartik, and daughter, Kaira. They enjoy visiting new places and eating as much as possible.

Education

Bachelors of Science in Chemical Engineering from Mississippi State University

Masters of Business Administration from The George Washington University




Dustin "Sloan" MacKarvich, Chief Business Development Officer, Tie Down

Sloan has over fourteen professional years of Manufacturing, Product Development, and Program Management experience at Tie Down INC.  As part of the second generation of a wholly owned family company, he has been involved in manufacturing technology since age Seven having both operated and implemented cutting edge manufacturing technology assets such as Robotics and Laser Cutting technology when it was in its infancy.

He has served in virtually all areas at Tie Down INC; Quality Assurance, Research and Development, Procurement, Production and Facilities Management, and Business Development.  Through these various roles, he has provided manufacturing and engineering support in many industries; Defense, Transportation, Marine, Agriculture, Alternative Energy and Oil Production, and general Contract Manufacturing.

Mr. MacKarvich is currently involved in the implementation of many long term strategic initiatives for Tie Down INC.  Highlights of his previous and current work are the following:

Program Manager for production of 12,000 Fabricated RPG defeat net systems for various MRAP Vehicles in 2009 - Current
Program Manager for ARL (Army Research Laboratory's) MRAP modified "drop hull chassis" survivability study
Co-Developer of the "Exocet" race/track car of which over 300 have been produced
Two new Company/Business acquisitions through his work on previous programs; most notably MaxQ Technologies who specializes in liquid to liquid cooling of Power Electronics. MaxQ's cooling products were recently launched to the ISS space station 6/29/2018.
Established a wholly new engineering team in 2015 to develop the paradigm shifting Spartan Vehicle Concept of which he is a co-inventor

 

Although his work directly with DOD is in its early stages, he has proved having a unique approach to solving complex problems.  ARL recently put forth a unique MRAP chassis that Mr. MacKarvich was able to deliver at 1/100th the cost and 1/10th the time frame of the current Prime vehicle provider, and the M-ATV prototype chassis' surpassed all of ARL's blast testing requirements.  His and the engineering team under him are applying the same unique approach to the Spartan Vehicle Concept

Mr. MacKarvich has a Bachelor's of Science in Business Management from Florida State University and continues his education in the areas of Lean Six Sigma, Strategic Planning, Engineering, and Leadership.

Drew Carl, Director of Corporate Marketing, Superior Essex

 
---
Operational Excellence                                                 (back to top of page)

This panel will be comprised of Georgia business leaders who understand the challenges of creating and driving continuous improvement.

Operational Excellence is the execution of the business more consistently and reliably than the competition. Operational Excellence is demonstrated and recognized by results. Given two companies with the same strategy, the Operationally Excellent company will have lower operational risk, lower operating costs, and increased profits relative to its competitors. It may more simply be interpreted as "Execution Excellence." Additionally, Operational Excellence (when done correctly and well) can help companies reduce turnover, reduce the long learning curve for new employees, deal with the generational gaps and enhance their employees' experience.

Operational Excellence is neither a specific management philosophy nor a particular methodology; it integrates all those enabling to reach Excellence. However, most of its drivers are based on earlier continuous improvement methodologies, such as Lean Six Sigma and The Toyota Production System. However, the focus of Operational Excellence should go beyond just the shop floor and encompass the entirety of the enterprise.

Who should attend: Operational leaders, C-level business leaders, plant managers, General Managers, Finance personnel

Topics covered:
- Change Management
- How to perform an effective Gemba walk
- Visual Examples of Lean
- The power of Kaizen
- Involving your workforce to get the most out of the culture




Sponsored by:  The Effective Syndicate

Beau Groover
Founder/President, The Effective Syndicate

Proven results-oriented leader in Continuous Improvement, team and leadership development and Operations Management.

20 years of experience in Operations Management, Manufacturing, Supply chain and Continuous Improvement, I have compiled a very broad and effective skill set. For over 13 years, I worked with experts in the Toyota Production System learning how to apply Lean Methodologies in both Manufacturing and Transactional (office) environments. I enjoy working through the rigors of creating clear alignment between the big-picture goals with the tactical objectives, and then executing the tactical plans to ensure results.

In addition to an MBA, I also have SS Master Black Belt, and Lean certified from the Association of Manufacturing Excellence (AME). I enjoy public speaking and have presented at several trade organization meetings on the topic of Lean, Six Sigma and Continuous Improvement. Published author in the areas of Leadership and Continuous Improvement.

John Barrett - President RR Donnelley Atlanta

John Barrett is President of RRD-Atlanta, a $60 million full service digital, sheetfed and web offset commercial print facility specializing in in-line finished product. RRD is a leading global provider of multichannel solutions for marketing and business communications. With more than 50,000 customers and 43,000 employees across 34 countries, RRD offers a comprehensive portfolio of capabilities, experience, and scale that enables organizations around the world to effectively create, manage and execute their multichannel communications strategies. Whatever the medium, message, size or screen, we connect your brand to your audience with an entire spectrum of integrated services and technology.

Barrett has been in the manufacturing for over twenty-five years and has lead operations in Wisconsin, Georgia and Querétaro Mexico. He earned a Bachelor of Business Administration in Management Information Systems from the University of Wisconsin – Eau Claire and a Master of Business Administration from the University of Wisconsin – Milwaukee.

John and his wife, Sheri of 27 years, have two children and reside in Duluth, Georgia.

Topic: Stakeholder Adoption for Continuous Improvement


Angela Jones, Director of Enterprise Change Management, Veritiv Corporation.

Angela has over 23 years of experience spanning multiple companies including Black & Decker, Booz Allen Hamilton, and Cox Enterprises.  She began her career as a Process Engineer earning certifications in Kaizen, Lean and Six Sigma.  As an engineer and Master Black Belt implementing continuous improvement, she learned the importance of employee adoption when making improvements in business processes.  Over the last 15 years, Angela has focused more heavily on the people side of process improvements in her role as a Change Management Leader.

Angela will cover:

Defining Change Management
6 Degrees of Change
Decreasing Resistance & Increasing Adoption
The ADKAR Methodology
Ways to Lead Employees through Change

Chrystal York, MBA, PMP  Continuous Improvement Manager, Trojan Battery Company

Chrystal York has expertise in business-wide program implementation, cross-functional team leadership and delivering strategic initiatives with sustainable gains. A certified Project Manager (PMP), Six Sigma Black Belt and Lean Professional adept at building leaders, managing programs and transforming culture that enhance business practices, reduce operational costs and drive profitable growth. Ability to bounce between the big-picture view to day-to-day tasks. Responsibilities include directing CI Leaders deployed across the business in transformation planning and execution, program training and coaching. Collaborate with division executives in CI strategy development that support business objectives.


Walking with Purposing: Leading an Effective Gemba Walk

• What is the Mission?
• Gemba Walk Dynamic
• Understanding Root Cause
• What Gemba is and what it is not

Jose Villena - Chief Operations Office, Adedge Technologies

Jose Villena is the COO at AdEdge Water Technologies. Prior to joining AdEdge, Jose worked with TSI Solutions in a similar role. Jose has a B.S degree in Computer Information Systems. He spent 10 years working as a Sr. SBA Lean Consultant for small to mid-size businesses, helping others achieve their dreams of business ownership and teaching private owners how to effectively market themselves to their customers. He specialized in introducing and implementing value-centered leadership structures, lean and sigma techniques. He has over 15 years of experience in lean system process analysis and plans on completing his Six Sigma Black Belt training soon.

Jose was born in Warner Robins, GA at the USAF base. He has traveled the globe extensively and is happily married with 6 children. Jose has coached high school football for the last 15 years and serves as a licensed pastor at his local church. In his spare time, Jose is a huge UGA football fan and enjoys day trips and weekend getaways with his family.

AdEdge was founded in 2002 and headquartered just north of Atlanta, Georgia, AdEdge Water Technologies specializes in the design, development, fabrication, and supply of water treatment solutions, specialty medias, legacy and innovative technologies that remove a wide range of contaminants from water. We have projects in 16 countries around the world. They include: United States of America, Canada, Puerto Rico, Mexico, Chile, Argentina, Ecuador, Guatemala, Nicaragua, Nigeria, Italy, Australia, China, Indonesia, the Philippines, and India.

Smart Factory                                                (back to top of page)


The panel will discuss lessons learned and case studies from multiple manufacturers who are underway with their Industry 4.0 journey and are seeing the business benefits provided by Smart Manufacturing solutions. The framework for the discussion will highlight best practices for developing and implementing a road map for getting to the Smart Factory state, including:

• Identifying Business Drivers
• Developing Requirements
• Stakeholder Alignment
• People, Process & Technology Assessment
• Technology Stack Selection for Short & Long Term
• Change Management Plan
• Heat Map for Pilot Selection
• Pilot(s) execution and Lessons Learned
• Measure actual ROI and business benefits
• Rollout strategy

Who Should Attend

• CIO/ VP/Director of IT
• COO / Operational Leaders
• CFO
• Quality, Lean, Continuous Improvement, Maintenance, and other Manufacturing Managers

Topics Covered

• Improving Performance, Quality, Maintenance, and Schedule Management
• Machine Learning / Predictive Analytics
• Supply Chain integration
• ERP integration and Finite Scheduling
• Traceability
• Smart Sensors
• Paperless, Mobility, Workforce Optimization, and more




Sponsored by: Polytron

Richard W. Phillips, PE, PMP,
Director of Smart Manufacturing, Polytron

Richard leads Polytron's rapidly growing Smart Manufacturing Group that delivers technology-based solutions focused on providing manufacturing visibility, intelligence and integration to support data-driven business improvements. Richard has consulted and implemented Digital Transformation strategies for both large and small manufacturers with a focus on solutions that deliver significant ROI and value. His knowledge of industry best practices, best-in-class technologies, proven case studies, and an understanding of the impact of technology solutions on People and Processes,  has helped ensure successful delivery of Smart Manufacturing pilots and rollouts for multiple manufacturers.

Richard joined Polytron in 1993 as a design engineer where he subsequently gained extensive experience over the next 25+ years deploying innovative solutions to manufacturing clients across many different industries. He has expertise in designing and implementing solutions in automation, information systems/MES, process/packaging, and Smart Manufacturing.

Richard holds Bachelor's and Masters of Science degrees in Electrical Engineering from Auburn University, where he was a recipient three years in a row of NASA's Fellowship scholarship for his research with diamond thin film deposition.  Richard is a published author and professional speaker for Smart Manufacturing related content.  He is a member of the Forbes Technology Council.

 

 

Charlie Post  President of TSI Solutions

Charlie has been with TSI Solutions since 1992. During that time he has seen many changes both within in his company and in the Georgia manufacturing sector. He is a passionate advocate for Georgia's manufacturers and is an active member of the Georgia Manufacturing Alliance, Georgia Tech's Advanced Manufacturing Consortium, the Gwinnett Chamber of Commerce's Manufacturing and Supply Chain Council, and the Georgia Association of Manufacturers. He is a graduate of Dartmouth College and the University of Maryland's Graduate School of Communications.

 

Markus Rimmele, Managing Director US Services with Koch Packaging Systems Inc.,  www.kochpackaging.com (a member of the Uhlmann Group)

Markus Rimmele started his career with an with a 3 ½ year apprenticeship to a Mechatronic Technician back in Germany , and went on to further his education with a State-Certified Engineering Degree for Electrical Engineering in Tettnang, Germany in 2002 and later an Executive Masters in Business Administration from Georgia's leading Business school, Georgia State University in 2018. Throughout his career, he was involved in all phases of customized production machine manufacturing from Engineering Design to Life Cycle Management. Twelve years ago, he immigrated to the United States through a work transfer. He has over 20 years of experience in Industrial Automation focusing on European Technology for the North American market, with expertise in engineering and manufacturing for multi industries including automotive, medical device, solar energy, material handling, and customized packaging solutions. Markus is an IoT advocate with passion and vision for the Digital Transformation in Field Service and Life Cycle Management. Since 2019, he is with KOCH Packaging Systems Inc, a German Manufacture for customized packaging solutions,  and leads the life cycle management services for the US in their  Alpharetta, GA service center.

Bryan Turner, Vice President, Information Technology, Chart Industries, INC.

Bryan has a track record of building world-class IT departments by setting a CSV (Clear Simple Vision) with a future roadmap for Security, Infrastructure, Applications. With his leadership and ability to partner with the business globally, he has received many IT industry accolades. In his 20+ years of experience in IT, Bryan has led many successful IT Security/Infrastructure Projects and ERP Implementations in the Food and Beverage, Agriculture, CPG, and Manufacturing Industries.

Andrew F. Lewis, co-founder and CEO of DecisionIQ

Andrew is a technology veteran who has engineered innovative highly successful products and companies in a variety of fields from fighter aircraft to high-performance computer systems, internet platforms and now AI solutions for enterprise manufacturing.  Andrew is a graduate of Georgia Institute of Technology with a BS in Aerospace Engineering and earned an MBA from The University of Chicago-Booth School of Business.

DecisionIQ - AI for Industrial Performance

Global enterprise-grade manufacturers have partnered with DecisionIQ to support their journey to Industry 4.0. DecisionIQ's cloud AI platform is enabling breakthrough operational results by continuous monitoring of whole-plant legacy Maintenance, Repair and Operating data (MRO) to achieve:

Zero Unplanned Downtime
Just in Time repair process
Optimized and simplified MRO process
Regionalization of multi-plant MRO processes